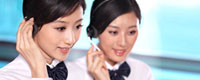 Tel: +86-538-8267650
Fax: +86-538-8267650
E-mail: gao.yang@taianinco.com
Add: A-506, Tianlong International Business Building, Taian, Shandong, China 271000


Since 2004, Taian Chuanghe Import and Export Co., Ltd. has been working and is specialized in the business of commercial vehicle and passenger car spare parts. Our products have been exported to Russia, Algeria, South Africa, Bolivia, Iran, Saudi Arabia, the UAE and other countries. Clients from abroad and domestic are all satisfied with our competitive prices, reliable & warranted quality, short delivery time and timely after-sales service.

Taian Chuanghe Import and Export Co., Ltd. is located in Taian City. Beijing-Shanghai Highway, Beijing-Fuzhou Highway, Beijing-Guangzhou Highway and Beijing-Shanghai CRH all pass through Taian City. It only takes 2.5 hours to drive from Taian to Qinagdao, the biggest port of Shandong Province. We are enjoying the convenient access to major transportation and logistics networks.

Furthermore, all of our products are manufactured with advanced equipment and strict QC procedures in order to ensure high quality. Guaranteeing stable and timely supply, credible quality and sincere service, our products sell well in both domestic and overseas markets. If you are interested in any of our products, or wish to place a customized order, please contact us. We will do our best to meet your needs.