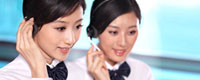 Tel: +86-538-8267650
Fax: +86-538-8267650
E-mail: gao.yang@taianinco.com
Add: A-506, Tianlong International Business Building, Taian, Shandong, China 271000


Company News
>> Where to Source Genuine FOTON Truck Parts in China
Where to Source Genuine FOTON Truck Parts in China
With the growing number of FOTON truck purchases, the ability to source parts that are designed
specifically for use in the Chinese manufacturer's medium and heavy duty vehicles is becoming increasingly important.
While there are numerous outlets willing to supply generic spares at a discount, one should always
bear in mind that this practice, which is intended to save a few dollars, is very likely to result in a
replacement component that is less durable and therefore prove to be a false economy.
More serious though, is the fact that in some instances, the use of parts other than genuine manufacturer's
spares could actually result in part or all of your warranty being rendered null and void.
Chuanghe Import and Export Company supplies the FOTON range of both vehicles and truck parts
to home and foreign market for more than 20 years. We are acutely conscious of the importance of
carrying sufficient stocks of crucial spares. We always get genuine spares from our official network
of accredited dealers and thus have no need to deal with non-official distributors and to run the risk
of being palmed off with poor-quality, generic items.